The European Hematology Association's (EHA) annual congress, one of the most important haematology congresses here in Europe, is being held in Frankfurt, Germany from 8 June to 15 June 2023 in a hybrid format.
Myeloma Patients Europe (MPE) attended EHA 2023 in person and interviewed relevant myeloma and AL amyloidosis specialists to provide an overview of the key highlights in both diseases presented during this meeting. Watch below the main results of the following clinical trials:
Redirectt-1 clinical trial. Dr María Victoria Mateos, Director of the Myeloma Unit at the University Hospital of Salamanca-IBSAL in Spain, summarises for MPE the results of the clinical trial Redirectt-1, presented at EHA 2023. This trial analyses the efficacy of teclistamab and talquetamab simultaneously in relapsed or refractory myeloma patients.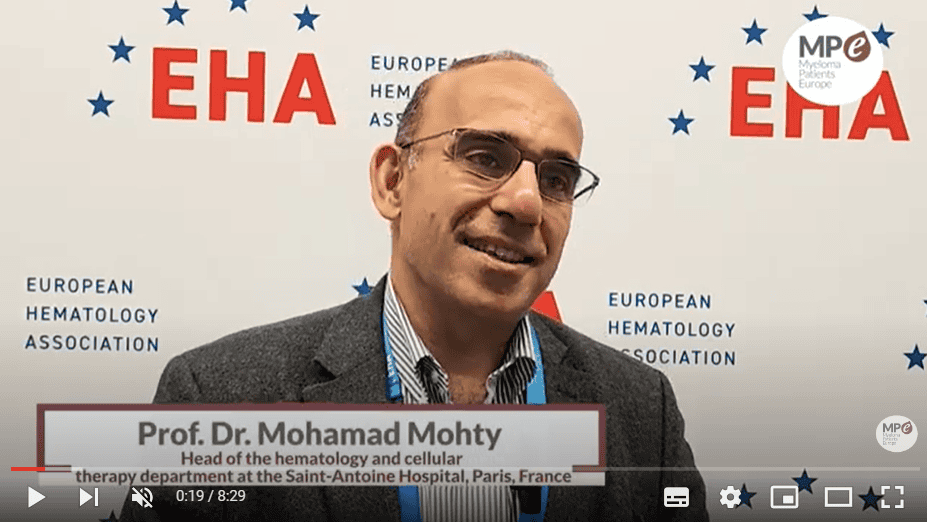 Magnetismm 3 clinical trial. Prof. Dr. Mohamad Mohty, Professor and Head of the hematology and cellular therapy department at the Saint-Antoine Hospital in Paris, France, explains the latest Magnetismm 3 clinical trial information presented at the EHA 2023. This clinical trial tests the efficacy of elranatamab in relapsed and refractory myeloma.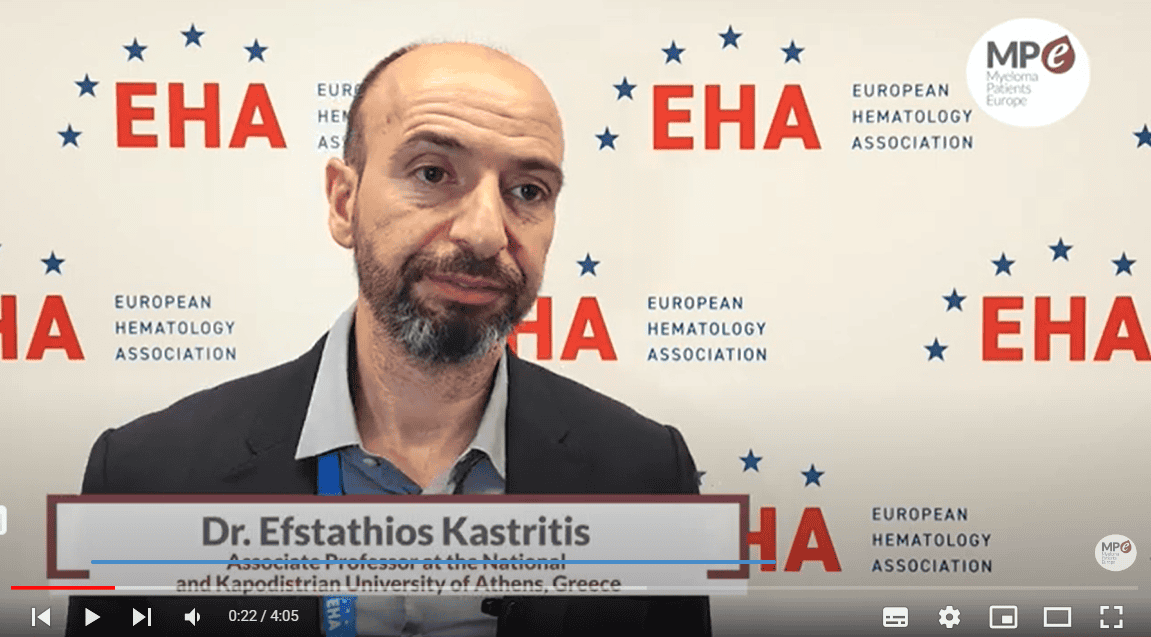 EMN 27 clinical trial. Dr. Efstathios Kastritis, Associate Professor at the National and Kapodistrian University of Athens, Greece, summarises the clinical trial EMN 27 results presented at EHA 2023 in this interview. This research evaluates the efficacy of belantamab mafodotin in relapsed or refractory AL Amyloidosis patients.
MonumenTAL- 1 clinical trial. Prof. Monique Minnema, internist and haematologist at Academic Medical Center, Amsterdam and the University Medical Center, Utrecht, The Netherlands, summarises the results of the clinical trial MonumenTAL-1 presented at EHA 2023 in this interview. The phase I/II MonumenTAL-1 trial evaluates talquetamab in patients with relapsed/refractory myeloma.
CARTITUDE4 clinical trial.
Dr Hermann Einsele, Director of the Department of Internal Medicine II at the Würzburg University Hospital, Germany, summarises the results of the clinical trial CARTITUDE-4, presented at the European Hematology Association's annual congress (EHA 2023 Virtual), held in June 2023. This trial evaluates the CAR-T treatment cilta-cel versus standard of care (PVD or DPD) in lenalidomide-refractory myeloma patients.