ASH 2019, Orlando – A number of early-phase studies were presented yesterday during the 61st American Society of Hematology (ASH) Annual Meeting spotlight the rapid advances being made in cellular immunotherapy for blood cancers. Researchers will present the results of early-phase studies of emerging "second-generation" cellular immunotherapy products that strive to overcome the limitations of existing products.
Two phase I studies assess novel CAR T-cell therapies for multiple myeloma that test different dual-target strategies. One product is genetically engineered to contain two proteins that attach to BCMA, a protein found almost exclusively on the surface of plasma cells, the immune-system cells that become cancerous in myeloma. The other is designed to target both BCMA and CD-38, another protein found on the surface of plasma cells. In both studies, many patients achieved minimal residual disease (MRD) negativity, which means that using highly sensitive testing fewer than one myeloma cell per 100,000 cells was identified in the bone marrow. Previous studies have shown that patients who achieve this milestone have a lower risk of relapse after more than three years of follow-up.
Find below more details about this clinical trials:
High response rate seen with BCMA-Directed CAR T-Cell therapy for myeloma
Myeloma patients who had received a median of five prior therapies, and for whom standard-of-care treatments were no longer working, had a high response rate when treated with the investigational CAR T-cell therapy JNJ-4528, which targets BCMA, a protein commonly found on the surface of multiple myeloma cancer cells.
"We are seeing a high response rate, with most patients achieving MRD negativity," said lead study author Deepu Madduri, MD, of The Tisch Cancer Institute at Mount Sinai in New York. "Considering these patients have all received multiple prior therapies, these results are extremely encouraging."
All evaluable patients receiving this CAR T-cell therapy have achieved MRD-negative disease state and 27 of 29 patients are progression free at a median follow-up of six months, Dr. Madduri said.
Multiple myeloma is a cancer of plasma cells, which are found in the bone marrow and are part of the immune system, the body's defense system against infection. Typical signs and symptoms of myeloma may be bone pain or fractures, high levels of calcium in the blood, kidney damage, and anemia. This disease affects an estimated 160,000 people each year, occurs most often in people over 60, and is slightly more common in men than in women.
Although new therapies for myeloma have recently become available that can extend patients' life expectancy, a cure for the disease remains elusive, Dr. Madduri said. "We can get the disease into remission, but most patients unfortunately relapse, and outcomes are very poor for patients who have relapsed multiple times," she said.
Researchers said that JNJ-4528 is a novel CAR T-cell therapy featuring two molecules that bind to BCMA, a protein found on the surface of myeloma cells. "We are learning that every CAR T-cell therapy is different," said Dr. Madduri. "JNJ-4528 has a unique CAR T cell composition in patients, preferentially enriched in CD8 T cells, which are believed to be one of the most important T cells in killing cancer cells."
This phase Ib/II trial is continuing to enroll patients. Dr. Madduri reported results for the first 29 patients enrolled. Patients' T cells were collected and sent to a laboratory where they were genetically engineered to express JNJ-4528. Prior to reinfusing these CAR T cells, the patients received three days of chemotherapy to "make room" in their immune systems for the engineered T cells. Following chemotherapy, each patient received a single infusion of the JNJ-4528 CAR T cells. They had blood and bone marrow exams at a minimum at 28 days, six months, and one year after treatment to assess their response. The primary aims of the trial are to assess the therapy's safety and to confirm the dose to be tested in a larger, phase II trial.
The median follow-up time in the current analysis is six months. Overall, 100% of patients had a clinical response to JNJ-4528. Moreover, 66% had a stringent complete response, meaning that sensitive laboratory and microscopic tests found no evidence for myeloma proteins or cells in blood, urine, or bone marrow.
Most patients (93%) experienced cytokine release syndrome (CRS), a known adverse effect caused by an immune response in the body to the activated T cells that are attacking the cancer. CRS causes flu-like symptoms such as fever, body aches, and fatigue, and in severe cases can be life-threatening. One patient had severe (grade 3) CRS, and one patient died from its complications 99 days after the CAR T cell infusion. In 76% of patients, CRS was treated with tocilizumab.
"To see some patients in this heavily pretreated population surviving for a year or more with a one-time treatment and a manageable safety profile is remarkable," Dr. Madduri said. "These patients feel that they have their quality of life back. They no longer have to come into the clinic for weekly treatments and some are well enough to travel."
The phase II portion of this study is ongoing to evaluate the overall response rate of patients treated with JNJ-4528. Additional clinical studies are evaluating the safety and efficacy of JNJ-4528 in different multiple myeloma treatment settings.
Encouraging results for dual-targeted CAR T-Cell Therapy in hard-to-treat Myeloma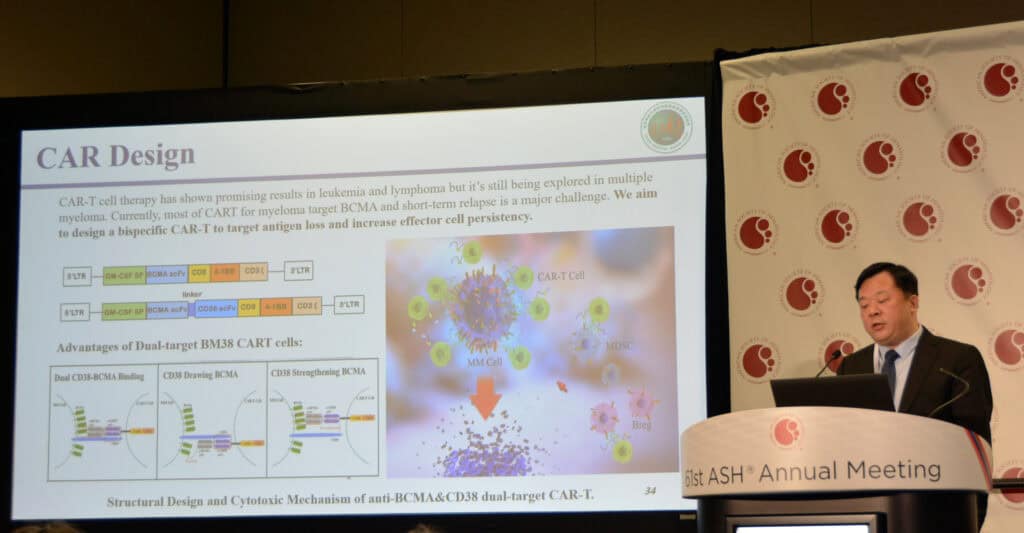 More than three out of four myeloma patients that returned or did not respond to at least two therapies remained in remission seven months after treatment with a novel CAR T-cell therapy targeting two proteins that are frequently found on myeloma cells. Those experiencing sustained remissions include nine patients with a difficult-to-treat form of myeloma in which the disease has spread beyond the bone marrow.
Roughly one in 10 myeloma patients develop tumors in the organs or soft tissues such as the blood vessels, muscles, and nerves. These so-called extramedullary tumors respond poorly to treatment, and patients who develop them have a poor outlook and poor quality of life, said study author Yu Hu, MD, PhD, of Union Hospital, Huazhong University of Science and Technology in Wuhan, China.
"Our results show that this CAR T-cell product can effectively achieve elimination of extramedullary tumors," said Dr. Hu. "Although these are preliminary data, they are encouraging for patients with myeloma who have not responded to other therapies."
The study treatment is the first CAR T-cell therapy to be genetically engineered to target BCMA and CD38, two proteins found on the surface of plasma cells.
"Our thinking was that targeting both of these proteins would improve treatment efficacy without increasing toxicity, and induce deeper, more durable remissions," said Dr. Hu.
The first-in-humans phase I trial enrolled 22 patients whose average age was 59, of whom 11 were men. All had multiple myeloma that had returned or not responded to at least three therapies. Nine of the 22 patients had extramedullary tumors. The study aims were to determine the safest and most effective dose of the CAR T-cell therapy as well as to initially evaluate its effectiveness.
Patients were divided into five groups, with each group receiving a higher dose than the previous one. Depending on the cell dose, patients received either one or two infusions.
At a median of 36 weeks of follow-up, 18 patients (90.9%) had MRD-negative disease. Twelve patients (54.5%) had a stringent complete response, meaning that no plasma cells were detected in the bone marrow. Seven patients (31.8%) had a good or very good partial response, meaning that the level of M-protein (an abnormal protein produced by cancerous plasma cells) in the blood or urine was reduced but still detectable. In eight of the nine patients with extramedullary lesions, these tumors were undetectable on their computed tomography scans. For the 17 patients who remained in remission at seven months after treatment, the median duration of response was 28.8 weeks.
Researchers observed some side effects: 20 patients experienced CRS, of whom six needed treatment. No serious adverse neurologic effects such as seizures, movement impairment, difficulty speaking or understanding speech, or fatal swelling in the brain were reported.
"With this dual-targeted CAR T-cell therapy, we have demonstrated a high response rate, especially a higher rate and longer duration of stringent complete response, compared with other therapies, as well as effective elimination of extramedullary lesions, with no serious neurologic adverse effects and manageable levels of other adverse effects," said Dr. Hu.
The investigators will continue to follow the patients for two years. They are also planning to conduct a phase II trial in both China and the United States to test the treatment's effectiveness in a larger number of patients.